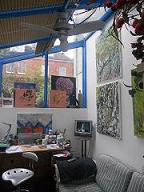 Artist Gallery Website in Hove
Art Gallery ~ City Retreat
Local Hove artist Val Fawbert is exhibiting her unique paintings at her own City Retreat venue. Here's how she describes her work:
'I feel at one using a tactile hands on process involving printing, rolling, scraping, exploring and incorporating textures of the canvas.
'I work on site achieving initial drawings, using charcoal on pre-treated canvas, adding final touches using giant oil sticks, enhancing perspective and tone values.
'It is my preference to exhibit work without frames.'
City Retreat is an art gallery belonging to local artist Val Fawbert.
It features a workshop/studio and summerhouse in a walled garden within a colonial setting.
Val's paintings are impressions on canvas depicting sculptural and architectual forms using palette knife and acrylics.