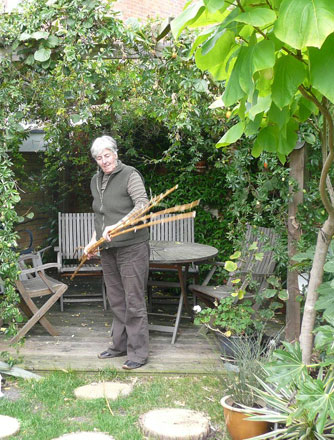 Artist Biography: Val Fawbert
"THROUGH MY EYES " was the title of my exhibition in the 2014 Hove Arts Open House.
In 2013 my exhibition in the Christmas Open House "OUT & ABOUT" work depicted a continuation and development of the series "ON THE FRONT". I broadened my search within the town and beside the seaside for glimpses which develop into scenes which capture the very essence of yesteryear, reminding me of my childhood adventures; when we had the freedom to explore and have fun along The Front. Locals and visitors alike, as always , enjoy the fun, the buzz, the excitement, the "get away from it all " opportunities which are still there for all to enjoy!
Contemporary Impressions using the palette knife and acrylics on deep edged canvas.
The process skimming, scraping using the knife, achieving movement and simplicity of line for my figurative work. Restraint is required with the palette, economy of colour, also spatial awareness is crucial to my composition. It is as much about not over-crowding, leaving room or space for the onlooker to enter ("it could be me or us"); my statement on canvas is then realised.
---
My previous series of figurative work
"On The Front"
Shows local scenes highlighting promenaders at the seaside.
Use of acrylics, and a palette of vibrant colours allows me to attack the canvas with physicality and little restraint.
My figurative scenes demand a discipline, limiting the use of colour; while the palette knife work exposes the textured canvas scraping the surface.
Use of giant oil sticks offer a soft and sympathetic finish in stark contrast to the cutting edge, hands on, tactile surface evolving from both knife and paint.
Formative Years:
Were inspired by: Tutor/Sculptor Jenny Hughes R.A.
Also heavily influenced by Tutor, Printer, Art Lecturer Toni Patten.
Appreciation to Nadie Szenassy, Art Historian and Critic for support and encouragement.
Education:
University of Sussex: B.Ed. (Hons)
University of Brighton: Major in Art Education, Modern Sculpture, Drama and the Visual Arts.
Career:
Twenty years teaching
Senior Management
Exhibitions and Commissions
Gallery "City Retreat" Hove
Harry's Restaurant, Hove
Brighton Festival, Hove Arts Trail
Art Wave, Lewes
Skyline Gallery, Brighton Marina
Charity Secret Bid at the Laughing Dog

Charter Medical Centre, Hove
Plan Jacot, Neuchatel, Switzerland
St Romain de Benet, S.W. France
Commissions in Corporate Spaces 2012
Greenacres apartment blocks, Brighton

Part of the complete refurbishment programme for 2012

Work completed September - originals and Giclee prints

Sheridan House Office Building Brighton

On-going project 2012-2013

Money Penny Associates & Cygnet Properties

Hotel Seattle Brighton Marina

On loan, enlarged Giclee Print exhibited in foyer/Reception

Triptych

Recent International Exhibitions 2012

Conference Centre - Gallery, Restaurant French Alps

Exhibiting Easter 2013

The Coach House - Alfriston, East Sussex

Middle Street

Brighton Media Centre

Old Steine